Approved By The Whole Office
• The Health Nut • The Workaholic Who Skips Meals • The Colleague On A Diet • The Picky Eater • The Indulger And You.
Interested in WorkPerks snacks options for your office? Complete the form below.
Step up your office culture game with a convenient snack delivery subscription service providing an exciting new variety of snacks with each delivery and based on your office's feedback.
A curated artisan snack variety with something for everyone in the office
GRASS-FED BEEF JERKY • CHOCOLATE CHUNK MINI COOKIES • THAI RED RICE CRACKERS • MAPLE NUT GRANOLA • TRUFFLE POPCORN • HONEY OAT STROOP WAFELS • CHOCOLATE COCONUT BARS • SMALL BATCH SWEET POTATO CHIPS • SMOKED CHILI ALMONDS
& MORE

Overall, the team is impressed with the quality and variety, they look forward to each delivery and often comment on how much they enjoy the snacks.
– Atlas Informatics
Everything from their website to their snack delivery service was absolutely perfect. Some of their snacks are so good, I had to request them again! Everyone loves the snacks & our office manager enjoys the free shipping.
– WorldMedia Interactive
Everyone loves the snacks! The variety you have sent is perfect.
– Real Capital Analytics
Don't take our word for it – Take theirs:
Ready to take your office snacks to a deliciously awesome next level?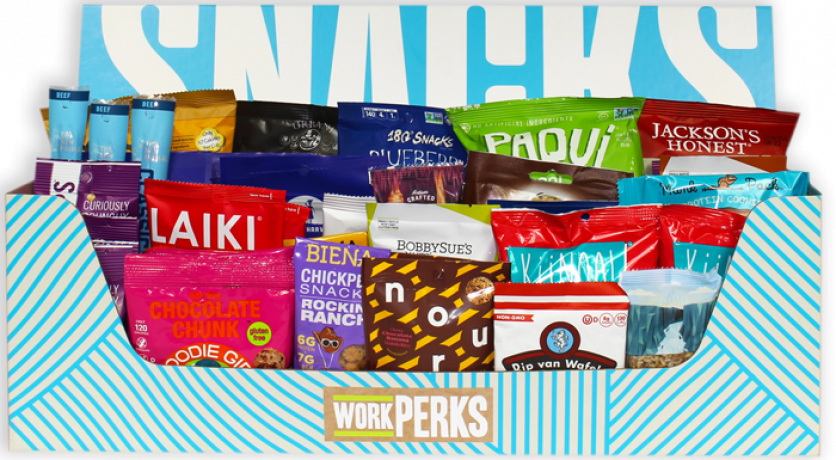 Great For
New Client Gifts • Client Meetings • Closing Deals Enhance Your Business Relationships.
Client Snack Gift Boxes
Invest in your client relationships and stay top of mind to your clients with our exciting and unique snack experience gift boxes. Caution: May cause instant handshakes.
---
$54.99 / One Time Purchase
---
---
Holiday Gift Service
For all your clients on the nice list. Stand out from all the holiday gift clutter with our unique holiday snack gift boxes!
---
$54.99/ One Time Purchase
---
Stale Salami and Cheap Wine Are So 2009
Client gifts shouldn't be lame, send them WorkPerks and you'll find yourselves hanging in your client's Hall of Fame. Share Snacks, Spread Love.
Check Out Some Of Our Delicious Snacks